Happy Monday to all of you! Hope you had fun watching the Academy Awards last night!
Today I wanted to bring you a few tid bits from the wedding of the century:William and Kate! This is a huge deal and will be such a grand wedding however I would never want to invite that many guests!! I absolutely love that they look so in love when they speak and when they just look at each other--so cute!! They are also having a Friday wedding- like me!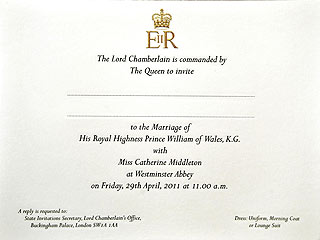 Source
They will be getting married on Friday April 29th-soon! The Dress is uniform, morning coat, or lounge suit- my
invitation will just say dress formal!!
Source
Commemorative memorabilia
Source
I love this picture of them! So happy and casual and you can see the ring (Princess Diana's Ring)
I wish them the best!